With every year the question of energy supply is becoming more actual. Examining the sources of fuel, all more often many countries of the world turn attention to biofuel. One of its varieties are fuel granules.
Coming from increasing demand on this type of products, both on domestic and international markets, in 2007 management of the company made a decision to produce high quality pellets. To date, production and sale of solid fuel from biomass is basic direction of activity of company "Almaz-M".
Pellets  – biological fuel got from sunflower husk. These are compressed cylindrical granules with average length 10-30mm diameter – 6-10mm (depending on customer requirements). Energy value of pellets is sufficiently high, since they have a high density and include no moisture. Combustion of two kilograms of such granules is treated as combustion of one liter of liquid fuel.
| | |
| --- | --- |
| Production capacity | 150.000 tons per year |
| Points of shipment | Poltava, Nikolaev, Kropyvnytsky (Kirovohrad) |
| Maximal volume of shipping | 10.000 tons per month |
| Package | big-bag, in bulk |
| Shipping | by rail / truck |
The advantages of using pellets:
The highest rate of energy concentration: the calorific value of pellets is 4.3-4.5 kW/kg, That is comparable with coal and 1.6 times higher than that of wood. During combustion 1000 kg of pellets from husk allocated the same thermal energy as the combustion 685 l of residual oil, 500 liters of diesel, 479 m3 of natural gas or 1600 kg of wood.
The sunflower husk pellet is safe and environmentally friendly fuel. During its combustion is allocated the same amount of CO2 as by natural decomposition of biomass used for its production. The pellets production is only in pressing of sunflower under high pressure, without addition of chemical admixtures.
The design features of furnaces allow you to automate the process of combustion.
Undeniable advantage of the sunflower husk pellets are terms of storage. The granules have low flammability, whereby this material can be kept in a direct closeness to the heated objects. Because granules do not take in moisture, their ability to give a heat does not diminish in course of time. Besides it this type of fuel occupies a small place, possesses small weight and is comfortable at transporting.
The relatively low cost in comparison with coal, fuel oil, gas.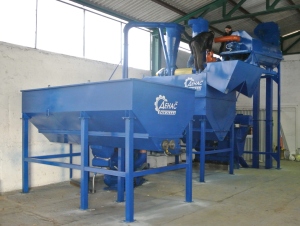 In the production of biofuels we use only the latest technology and own high-tech equipment for recycling the agricultural waste into environmentally friendly raw materials.
Since PE "Almaz-M" is a direct manufacturer of equipment for processing biomass and a highly skilled personnel works on all plants, quality control of both production and ready products is assured Long-standing cooperation of our company with reliable raw material suppliers ensures uninterrupted production.
Our production uses unchanging popularity, both in Ukraine and abroad. The specialists of PE "Almaz-M" established export to the CIS and EU countries.