Ecosoil – to ekologiczny czyste, bezchlorove, kompleksowy mineralny nawóz roślinnego pochodzenia, głównym komponentem którego jest popiół słonecznika. Szeroki diapazon składników odżywczych w jednej granuli pozwala efektywnie nawozić pełne spektrum rolniczych kultur (zbożowe, olejne, techniczne i pastewne kultury) i otrzymywać wysoki poziom opłacalności produkcji.
| | |
| --- | --- |
| Maksymalna objętość załadowania | 4.000 ton/rok |
| Punkt załadowania | m. Kropyvnytsky (Kirovohrad), m. Połtawa |
| Paczkowanie | big-bag, worki polipropylenowe, nasypem |
| Dostawa | transport kolejowy / samochodowy |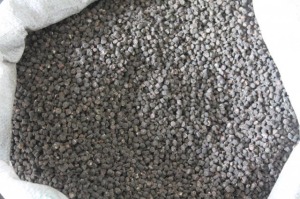 Ecosoil nie zawiera chloru, toż ten nawóz można stosować na takich wrażliwych do chloru kulturach jak ziemniak, jarzyny, płodowe i jagodowe, a także wnosić do szeregów siewnikiem czy do międzyrzędzi kultywatorem pod kukurydzę, słonecznik, ozimy i jary rzepak jak w czystym wyglądzie, tak i w składzie mieszanin nawozów, które mogą być zrobione z użyciem karbomidu i amofosu. 
Główną czynną substancją nawozu jest – potas (К2О) w ilości 36-42%. Dzięki wodorozpuszczalnej i łatwo dostępne dla roślin formie karbonatów (К2СО3) i siarczanów (К2SO4) nawóz Ecosoil przejawia wysoką efektywność na wczesnych fazach rozwoju warzywnych kultur, kukurydzy, słonecznika, ozimego i jarego rzepakaprzy wiosennym stosowaniu pod kultywowanie.
Jak alkaliczny nawóz (рН 10-11) Ecosoil ma wysoką neutralizującą zdolność, dzięki czemu zdolne zmniejszać kwasowość gruntu. Ecosoil zawiera do 25% karbonaty kalcjum i magnezu (Сао, MgO), czyli, 1 tona Ecosoil po neutralizującej zdolności dorównuje 0,35 tonom wapna..
Oprócz potasu (К2О) i kalcjum (Сао) Ecosoil zawiera 5% fosforu (Р2О5), 8-12% magnezu (MgO) i 4-6% siarki (S). Więc, sumaryczna zawartość czynnych substancji makroelementów nawozu Ecosoil składa niemniej 70%, co jest najwyższym wskaźnikiem wśród innych przemysłowych granulowanych nawozów, takich jak amofos (64%) czy chlorowy potas (60%). To nie dziwnie, jeśli wziąć pod uwagę ten fakt, że nawóz Ecosoil jest zrobiony na podstawie popiołu słonecznika – rolniczej kultury, która zużywa z gruntu dużą ilość potasu i innych makro i mikroelementów.
Nawóz Ecosoil zawiera wszystkie konieczne dla roślin mikroelementy, co czyni jego stosowanie wygraną na takich rolniczych kulturach jak ozimy i jary rzepak, słonecznik, kukurydza, ziemniak, jarzyny, wymagające dużą ilość mikroelementów, zwłaszcza bora, cynku, manganu.
Wskutek stosowania nawozu Ecosoil, oprócz podwyższenia wydajności:
wzrost zawartości suchych substancji (białek, tłuszczów i węglowodanów) i polepsza się jakość produkcji, zwyżkuje odporność roślin na niskie temperatury;

Kukurydza: polepsza się odporność roślin na wyleganie i roślin do porazki korzonkiem i badylem zgnilizna;

U zbóż zwiększa zawartość białka i skrobi w ziarnie;

U słonecznika i rzepaka rośnie oleista nasienia, zwyżkuje odporność na choroby.
Ponieważ Ecosoil jest uniwersalny i pomyślnie stosuje się w polu w sadzie i w ogrodzie, nawozy fasują się z maksymalną wygodą dla kupującego:
torby plastikowe z 2 i 5 kg dla ogrodników i rolników;

worki polipropylenowe 20 kg, i 40 kg;

do zastosowań przemysłowych, na polach – big-bagi po 1 t czy załadowanie nasypem.
Dzięki granulowanej formie Ecosoil rozpuszcza się stopniowo, nie wymywa się z ornej warstwy gruntu i ma pewną aftereffect.
Rozmiar granulek:
3-6 mm (średniej frakcji) rekomendują się dla zmechanizowanego stosowania, a także dla wyrobu mieszanin nawozów;
1-3 mm (drobnej frakcji) rekomendują się dla stosowania ogrodnikami i rolnikami.